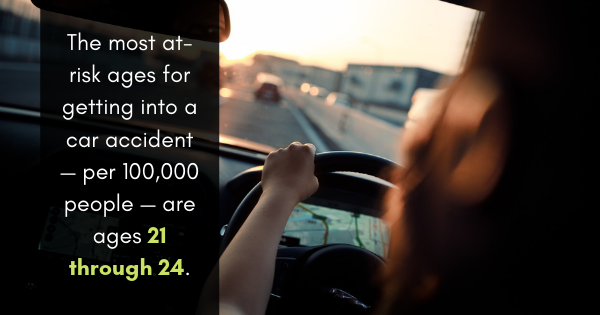 BEEN IN A CAR WRECK? HIRE A LAWYER
June 24, 2019
One of your worst fears is getting into an auto accident. You don't want to ever be in a wreck, and an accident, whether you caused the car accident by negligence of your own or you don't believe you're at fault, can turn into a legal battle quickly.
When you're in an auto accident, one of the first calls you should make should be to a skilled attorney who specializes in driving cases. Even if you do all you can and the police reported at the scene don't appear to be holding you responsible for the accident, you need to report the wreck and then call a lawyer right away. Here's why an attorney is necessary when you get into a car accident, no matter who's fault it is.
YOUR AGE WORKS AGAINST YOU
The most at-risk ages for getting into a car accident — per 100,000 people — are ages 21 through 24. If you are in this age range, you should speak with a lawyer to see if you are more likely than another type of driver to be targeted in the event of an accident. While proving the wreck is still your fault comes into play during a case, you may face other issues that require legal assistance, such as having your insurance go up or being required to take classes even if you aren't responsible for your accident. To be on the safe side, hire a lawyer.
YOU'RE ACTUALLY AT FAULT
No matter what, you should never admit fault to a car accident. Any documentation you provide to the police, the other driver, and your auto insurance company can be used against you in court, so don't ever say you are the responsible party in a car wreck. Your driving future can be put at risk in doing so.
If you are likely to be at fault, however, you need to openly and honestly explain why you feel this way to your lawyer. If you were inebriated, taking prescription medications, openly and obviously distracted behind the wheel, or doing something illegal at the time of your wreck, your lawyer will want to know so they can proceed correctly with your case. Don't forget: anything you tell your lawyer will be in confidence, but the more honest you can be if you're at fault with them, the better they may be able to assist you.
When you hire an accident attorney, you're taking the best first step to handling your potentially expensive situation. Your lawyer will be able to answer all the questions you have about your accident case and will be able to go with you to court. Remember: always report the accident, no matter how minor, so you are able to document the accident in the best possible way. Share all information with your attorney regarding your driving history to help build your case.