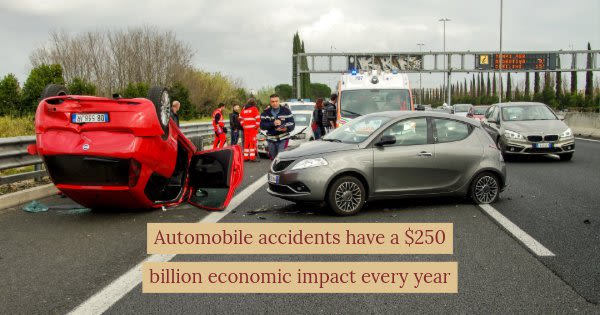 THREE REASONS TO SPEAK WITH AN AUTO ACCIDENT ATTORNEY
June 27, 2019
Automobile accidents in the United States total nearly $250 billion. Unfortunately, automobile and motorcycle accidents are all too common. Where do you turn? You are one of the unfortunate souls that has been in an accident and you are wondering if you need to speak with a lawyer. The can be confusing and it's good to know your rights. We're going to examine three reasons you may need to speak with a lawyer after an accident.
REASON NUMBER 1
First, lawyers know the law. The law firm can help you with your automobile accident case because they know the process. Car insurance is helpful but it may not cover you for the rental car you'll need after your car has been in a crash. Also, the insurance carrier for the at-fault driver will often times call you in order to strike a deal. They may offer money, but it most likely not come close to what it will take to cover your expenses. Also, once you have signed on the dotted line, the insurance company will be released from any litigation or further liability.
REASON NUMBER 2
Auto accident lawyers help their clients negotiate with healthcare providers, insurance companies and other stakeholders. If your case involves costly medical bills, some stakeholders or lien holders (often insurance companies) will want to be reimbursed for the payout (this is called subrogation). Your lawyer will handle these claims, which will free you from the additional burden of stress and paperwork. Personal injury attorneys are trained in dealing with the legal matters at hand and the peripheral matters that often arise.
REASON NUMBER 3
Hiring a personal injury attorney may entitle you to claims and benefits you would otherwise not know you have. For instance, you or a family member has been involved in a hit and run (where the one who committed the driver error flees the scene). This can happen because the at-fault driver fears both the consequences of his or her actions and the resulting penalties that will arise due to being uninsured, for example. If the family member is a part of your household and you have uninsured motorists coverage (this is mandatory in some states), the family member's medical bills will be paid and his or her pain and suffering will be included up to the maximum limit of your insurance coverage. This may also include coverage for a child related to one in your household, in the case the child was involved in the accident.
These are only three of some of the most common benefits you can receive when you hire an attorney. Having legal representation in your time of need helps alleviate the stress that occurs after an auto accident. When you speak with a lawyer, your rights will be defended, your questions answered and you may receive the compensation you deserve.
It is a good idea to speak with a lawyer within 30 days of your auto accident. Time is of the essence in a personal injury case. A good rule of thumb is first speak with your medical provider and then you should speak with a lawyer.